Town Party, Country Party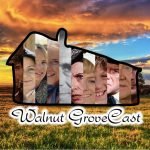 Episode 83
This will correct an error I made, I mistakenly mislabeled yesterdays episode!
Hello all – for this installment of Walnut GroveCast, Megan Parker was kind enough to join me to discuss the beloved episode, Town Party, Country Party
Town Party, Country Party was originally released on October 30, 1974
*note – I really did lose this recording after about 20 minutes in and Megan was incredibly understanding and we started over! I am still embarrassed by that!
"Laura befriends Olga, a girl crippled from birth with one leg shorter than the other and who, as a result, is teased by Nellie and often left out of the other children's games. But when Charles comes up with a way to help Olga walk more normally, he meets unexpected resistance…from Olga's over-protective father. "
If you would like to hear more from Mark head over the http://www.vhsrewind.com or subscribe to his podcast by clicking here
The opening song "Albert" is written and performed by the amazing Norwegian band, Project Brundlefly and is used with permission.
Check them out at:
https://www.facebook.com/ProjectBrundlefly