The Werewolf of Walnut Grove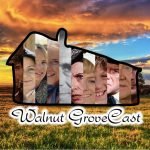 Kelly Mielke returns to Walnut GroveCast to help me break down this crazy episode! many of you may already know that Kelly and I have been working on another podcast called, Dr. QuinnCast which discusses the television show Dr. Quinn, Medicine Woman! We chose The Werewolf of Walnut Grove because it aligns with our #lunarpalooza festivities at Dr. QuinnCast!
We hope you enjoy this episode of Little House and also take a moment to check out what we're doing over at https://drquinncast.com!
"School bully Bart begins menacing his classmates, especially Albert. Tired of the constant harassment, Albert creates a paper maché werewolf mask to terrorize Bart into ceasing his bullying behavior. It works, until Carrie opens her mouth! It takes a joint effort by all of Bart's classmates to make him stop bullying."
The Werewolf of Walnut Grove originally aired on January 7, 1980
The opening song "Albert" is written and performed by the amazing Norwegian band, Project Brundlefly and is used with permission.
Check them out at:
https://www.facebook.com/ProjectBrundlefly