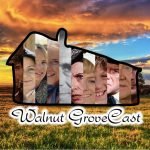 Episode 82
Susan King and Dotty Cashen join Mark to discuss the beloved episode, The Wolves. This is a wonderful cautionary tale told in a style that only Little House on the Prairie can pull off!
The Wolves originally aired on October 7, 1977
Listening to it while editing was a blast! I hope you enjoy it!
"While their parents are out of town, Mary keeps house and becomes frustrated when Laura won't obey her. Meanwhile, Laura spends a lot of time with Andy, taking care of a wounded wolf and her pups. Trouble brews when a pack of feral dogs attack local livestock and the farmers blame the wolves."
If you would like to hear more from Mark head over the http://www.vhsrewind.com or subscribe to his podcast by clicking here
The opening song "Albert" is written and performed by the amazing Norwegian band, Project Brundlefly and is used with permission.
Check them out at:
https://www.facebook.com/ProjectBrundlefly