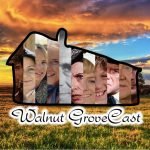 Episode 73
Sylvia had 2 parts which originally aired on February 9 and February 16 (just coming off of Valentine's Day, Yikes!) in 1981. Since the podcast started this has been one of the most requested episodes to review. Please note that we will be reviewing Sylvia again, I feel it is a sad and crazy series of episodes and deserves different input from different people.
I asked Psychologist Dr. Lindsay Weisner from the Neurotic Nourishment Podcast if she would come onto the show to discuss the troubling and dark episode. Dr. Weisner works largely with adults struggling with anxiety and teenagers with suicidal ideation so when she agreed to review the 2 parter I was floored. Having Dr. Weisner join me was a true honor and I really cannot thank her enough. I think we did a good job of capturing the craziness of these episodes and hope you all enjoy it.
I wish I had a camera on Dr. Weisner's face when I asked, "Hey Lindsay, I do a podcast about Little House on the Prairie, would you want to come on and discuss the 'rape episode'?"
Her face was a mix of, "what did he just say?" and "is this a joke?"
Nope not a joke!
BTW her podcast, Neurotic Nourishment Podcast is really amazing, honest and blunt, I can't recommend it more! Dr. Weisner also talks about the book she is releasing, Ten Steps To Finding Happy: A Guide to Permanent Satisfaction which has quite the buzz around it and personally I can't wait to read it, even if I am already pretty happy 🙂
Here are links and if you could even share the links it would be appreciated.
LINKS
Pre-Order Ten Steps To Finding Happy: A Guide to Permanent Satisfaction

Neurotic Nourishment Podcast
Instagram
https://www.instagram.com/neuroticnourishment/
The opening song "Albert" is written and performed by the amazing Norwegian band, Project Brundlefly and is used with permission.
Check them out at:
https://www.facebook.com/ProjectBrundlefly