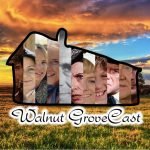 The Executive Producer for this episode of Walnut GroveCast is Anne Quinn
Stephanie Bailey returns to the show to discuss one of Mark's favorite episodes! We discuss so much!
"Aging circus daredevil Gambini the Great has a hypnotic effect on the children of Walnut Grove, especially Albert and Willie. A tragedy during one of Gambini's stunts will provide a chilling lesson in hero worship."
Gambini, the Great originally aired on November 9, 1981
The opening song "Albert" is written and performed by the amazing Norwegian band, Project Brundlefly and is used with permission.