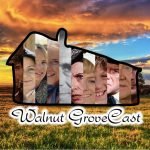 Brandon joins me to discuss this unforgettable and sometimes shocking episode in which Mr. Applewood comes to town to replace Ms. Beadle! Brandon and I discuss so much and I have a wonderful time, thank you for joining me Brandon!

"When teacher, Miss Beadle, is deemed unable to control some of the rowdy, older boys in her class, Mrs. Oleson convinces the Walnut Grove school board to replace her with a firmer, male hand. But the new schoolmaster tries to bully his students into submission and singles little Laura out as a troublemaker, blaming and punishing her for the slightest infraction even when she isn't the one responsible."
Troublemaker originally aired on February 25, 1976!
I hope you enjoy!