LHBC – Alicia Murphy, Author of Walnut Grove Hits Home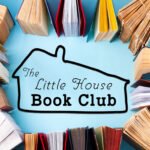 Alicia Murphy took the time to come onto The Little House Book Club to discuss her love of Little House on the Prairie as well as her soon to be released book! She is paying tribute to the memory of Michael Landon by releasing her book, Walnut Grove Hits Home on the anniversary of his death, July 1st. Thank you for taking the time to speak with me and I look forward to next time!
​Alicia Hogan Murphy was 8 years old when she decided that she would one day be a children's author. Her dream came true in 2015 with the publication of her debut picture book, The Muddy Foot Prince. She travels to elementary schools all over the United States, sharing her stories (Bear Hugs and Sock Bugs was published in 2016), and speaking to kids about the magic of reading, writing and believing in their dreams. When she isn't writing or visiting schools, Alicia enjoys baking, eating peanut butter, and being a mom.
You can follow Alicia's career at:
https://www.aliciamurphybooks.com
You can find Alicia's fantastic book, Walnut Grove Hits Home here:
https://www.amazon.com/dp/1629337188

We are finally on Apple Podcasts!
https://podcasts.apple.com/us/podcast/the-little-house-book-club/id1565403583