Walnut GroveCast – The Runaway Caboose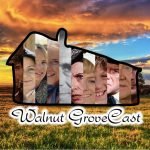 I was joined by Dotty Cashen and Courtney Pityer to review the episode, The Runaway Caboose! This was recorded at the same time all of the lockdowns began across the country so it was a real nice experience to escape into 1876 drama for a little while. Thank you Courtney and Dotty for recording!
The Runaway Caboose was originally released on February 11, 1976
"While on a trip to Springfield, Carl Edwards accidentally releases the brake on a caboose that he, Mary and Laura are exploring, sending the lone car and the terrified trio hurtling down the tracks towards an oncoming express train. "
I hope you all enjoy this!
If you would like to hear more from Mark head over the http://www.vhsrewind.com or subscribe to his podcast by clicking here
The opening song "Albert" is written and performed by the amazing Norwegian band, Project Brundlefly and is used with permission.
Check them out at:
https://www.facebook.com/ProjectBrundlefly
Become a Patron!