Interview with Barbara M. Walker!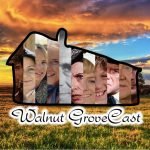 Episode 70
In this episode I interviewed the amazing Barbara M. Walker who wrote the ubiquitous Little House Cookbook! I love Barbara because her first response to me via email was simply, "I don't like the television show so there is likely very little that you would find interesting coming from me.". After 3 or 4 emails back and forth and a 45 minute talk on the phone I finally convinced her to come onto the show and I had such a great time! I have to thank the LHOTP Historical GURU Bill Anderson for putting me in touch with Barbara!
I hope you enjoy this episode!
You can follow Barbara's career here
https://www.harpercollins.com/author/cr-103865/barbara-m-walker/
You can order her truly amazing book here
The Little House Cookbook
If you would like to hear more from Mark head over the http://www.vhsrewind.com or subscribe to his podcast by clicking here
The opening song "Albert" is written and performed by the amazing Norwegian band, Project Brundlefly and is used with permission.
Check them out at:
https://www.facebook.com/ProjectBrundlefly