Bless All the Dear Children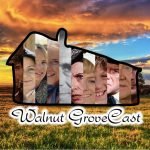 Episode 71
Merry Christmas (or XMAS) everyone!
2019 is coming to an end in about a week and I wanted to release one last episode for you guys and gals. I feel I have written these same words several times since Thanksgiving so I will make it brief.
2020 is going to be a really fun year for Walnut GroveCast and there will be interviews with the cast members that I can trick into coming onto the show, more giveaways and anything else that might pop into my head! In 2019 specifically, I have built many friendships within this small community and I am glad to see that many friendships have flourished within the community members, there have been celebrations, tragic losses and bickering and it truly feels like a solid community of wackos who I can say without a doubt are 'My People" …mission accomplished! I am also happy to report that unlike many other LHOTP groups, the people in WGC seem to have a love of the art of grammar and spelling (and cipherin').
Above all of that I can't thank the people who help with the finances associated to hosting the show and general costs that seem to be never ending. It means a lot to me that I am not the only crazy one who is willing to put time, effort and money into such a fun project! 2020 is going to be another server move which should not effect you at all but it means I get to do a lot of work, work that I truly love. Think of me as Isaac in The Craftman, except I'm not quite that old….yet.
This episode may be our longest clocking in at 2 hours, 36 minutes and 31 seconds!
Bless All the Dear Children and it originally aired on December 17, 1984. I am joined by Mrs. Kim Layer of The Florida Layer's who, along with me had never seen this hard to find Little House on the Prairie TV Movie.
"During preparations for a Christmas baby, Rose Wilder is kidnapped by a woman who recently lost her child. While looking for Rose, Laura, Almanzo, and Mr Edwards meet a lonely orphan boy who ends up living with that woman."
I hope you enjoy this as much as we did!
See you next year!
– Mark
If you would like to hear more from Mark head over the http://www.vhsrewind.com or subscribe to his podcast by clicking here
The opening song "Albert" is written and performed by the amazing Norwegian band, Project Brundlefly and is used with permission.
Check them out at:
https://www.facebook.com/ProjectBrundlefly