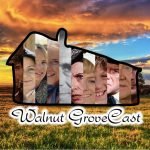 Episode 116
Kelly Mielke returns to discuss this dark and poignant episode about regret and giving up! I think I can speak for everyone here that we sure are happy that Doc Baker stuck around and even though things can be rough and overwhelming, it is important to never forget how a single decision can negatively effect others!
"Holding himself responsible for a farmer friend's death and unable to face his now seven-months pregnant widow, a disheartened Doc Baker leaves his Walnut Grove practice in the hands of a self-absorbed Philadelphia physician and decides to raise corn."
We had a fun time discussing this episode and I truly hope you all enjoy it as well!
To Run and Hide originally aired on Michael Landon's 41st birthday which is also Halloween, October 31, 1977!
Check out Kelly's Etsy store
https://www.etsy.com/shop/HandCraftLittleHouse
If you would like to hear more from Mark head over the http://www.stillunsolved.com or subscribe to his other podcast, Unsolved Mysteries Rewind by clicking here
The opening song "Albert" is written and performed by the amazing Norwegian band, Project Brundlefly and is used with permission.
Check them out at:
https://www.facebook.com/ProjectBrundlefly