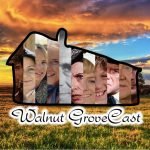 Episode 88
Today I am honored to have fellow podcaster, Angela Bowen join me to review the cute, cuddly and deadly episode, The Raccoon!
The Raccoon was originally released on November 20, 1974 and is Season 1 Episode 10
"Blaming herself when Laura's doll breaks during a game of catch, Mary is delighted to give her sad, little sister an abandoned, baby raccoon. After Pa reluctantly agrees to let her keep him, Laura names him "Jasper", teaches him tricks and tries to keep the mischief-maker out of trouble. But one day, Jasper bites Jack, the Ingalls' dog, and disappears into the woods. When Charles later shoots a snarling, rabid raccoon who is killing the chickens and begins to watch Jack for signs of rabies, a tearful Mary reveals a terrible secret… Jasper had also bitten Laura who made Mary promise not to tell."
If you would like to check out Angela's amazing podcasts, Looking Back on My Wonder Years and Punky Power/Silver Spoons Podcast please click below!
If you would like to hear more from Mark head over the http://www.vhsrewind.com or subscribe to his podcast by clicking here
The opening song "Albert" is written and performed by the amazing Norwegian band, Project Brundlefly and is used with permission.
Check them out at:
https://www.facebook.com/ProjectBrundlefly