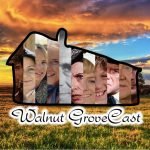 Episode 103
Leah Mitchell from the RetroTV Podcast joins me to review this amazing episode! There are laughs, cries and even a challenge that I throw into the universe!
Come along as we discuss how Charles seems to have money to burn on snowglobes, the connection that mob boss John Gotti has to the strange color of the cottage and so much more!
I hope you enjoy this episode!
"Hoping for a miracle, Charles takes Mary to a specialist in Mankato to find out if the light she has been seeing means that her sight may be returning, while husband Adam worries that she won't need him anymore, and an excited Laura enlists Albert's help to fix up an abandoned cabin to serve as the Kendalls' new home."
The Enchanted Cottage first aired on Monday February 26, 1979 during a Lunar Eclipse!
https://en.wikipedia.org/wiki/Solar_eclipse_of_February_26,_1979
If you would like to hear more from Leah head over to https://vhsrewind.com or subscribe to our podcast, RetroTV by clicking here
If you would like to hear more from Mark head over the https://www.stillunsolved.com or subscribe to his other podcast, Unsolved Mysteries Rewind by clicking here
The opening song "Albert" is written and performed by the amazing Norwegian band, Project Brundlefly and is used with permission.
Check them out at:
https://www.facebook.com/ProjectBrundlefly