An Interview with Suzy Barbieri AKA Leslie Barton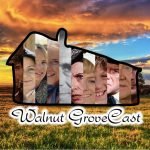 Episode 75
Suzy Barbieri is an actress who many who listen to this show will recognize as "Leslie Barton", Albert's love interest in the episode, "Dearest Albert I'll Miss You". After Little House on the Prairie Suzy also worked on classic tv series such as Cagney and Lacey and starred in the films, Skyward and Skyward Christmas. In 2002 she produced the film, Blue Crush which had stars such as Michelle Rodriguez and Kate Bosworth.
I was honored to have Suzy accept my invitation to come onto Walnut GroveCast to speak with me about her role on LHOTP as well as her career.
A special thank you to Warren Croom for helping me get the interview request to Suzy.
I hope you enjoy this interview!
If you would like to hear more from Mark head over the http://www.vhsrewind.com or subscribe to his podcast by clicking here
The opening song "Albert" is written and performed by the amazing Norwegian band, Project Brundlefly and is used with permission.
Check them out at:
https://www.facebook.com/ProjectBrundlefly