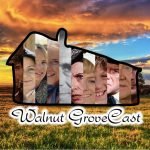 The end of Summer has arrived and so have the weekly episodes of Walnut GroveCast! This summer I released a total of 15 episodes of Walnut GroveCast, 11 episodes of Bonnetheads and 13 episodes of The Little House Book Club and there is a lot more to come! Although the podcast is returning to its bi-weekly roots there will still be releases of all of these podcasts to keep even the most demanding listener occupied!
Thank you to each and every one of you for supporting the podcast and for being such a tremendous part of the show! For supporters, there is an Antique book giveaway that is coming in the next week and in December there will be several giveaways that I am excited about, you know it's a good giveaway when it is something YOU want to keep! It's very cool and antique so stay tuned!
Peyton England joins the show to help me discuss this episode that follows Johnny Johnson and Isaiah to the big city!
"Taking full responsibility for filling Johnny Johnson's head with exaggerated tales of travel and adventure, Mr. Edwards goes with him when Johnny takes off to see the world, hoping to protect the credulous farm-boy from dangerous situations and unscrupulous characters while trying to convince him to go back home."
To See the World originally aired on March 5, 1975
I hope you enjoy this episode!
The opening song "Albert" is written and performed by the amazing Norwegian band, Project Brundlefly and is used with permission.
Check them out at:
https://www.facebook.com/ProjectBrundlefly