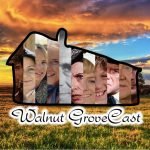 Episode 41 – The Award
Walnut GroveCast is available on these amazing services!

Also Visit us on Facebook and Twitter
Susan and Mark discuss the Season 1 Episode 12 episode "The Award" which originally aired on December 11, 1974
A frightened, angry Caroline impulsively forbids Mary from taking a scholarship exam as punishment for accidentally starting a late-night fire in the barn where she had gone to study to keep from waking her sleeping little sister, Laura. But more than anything, Mary wants the exam winner's prize, a beautiful, new Webster's Dictionary, and when she delays telling her teacher that she won't be taking the test, Laura worries that her big sister is planning to defy their mother.
If you would like to hear more from Mark head over the http://www.vhsrewind.com or subscribe to his podcast by clicking here
The opening song "Albert" is written and performed by the amazing Norwegian band, Project Brundlefly and is used with permission.
Check them out at:
https://www.facebook.com/ProjectBrundlefly