Walnut GroveCast – The Handyman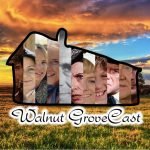 In this episode of Walnut GroveCast I have had the distinct honor of having Suzann Holland on the show! Suzann helped me pick apart the amazingly controversial episode, The Handyman which co-starred the very hunky Gil Gerard! We both love this episode and I simply had a great time talking Little House with Suzann!  Thank you for taking part!
The Handyman was originally released on October 3, 1977
"Meddling Mrs. Oleson starts tongues wagging when a handsome itinerant handyman stays in the Ingalls' barn while helping Caroline with a kitchen addition after Charles is called out of town to work on Mr. Hanson's railroad lumber contract."
If you would like to hear more from Mark head over the http://www.vhsrewind.com or subscribe to his podcast by clicking here
The opening song "Albert" is written and performed by the amazing Norwegian band, Project Brundlefly and is used with permission.
Check them out at:
https://www.facebook.com/ProjectBrundlefly
Become a Patron!