Walnut GroveCast – The Big Inning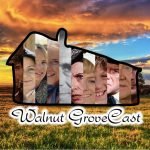 Chantelle joins me to discuss sports in 1875! If you know anything about me you may know that I care and know very little about sports and avoid the topic but thankfully Chantelle carries the discussion and we chat about spit balls, pa's broken bat and beer in Walnut Grove!
In the Big Inning first aired on Wednesday, October 1, 1975!
" Jebediah Mumfort's keen eye and fast arm seem to be just what Walnut Grove's baseball team needs to go up against Sleepy Eye's powerful hurler, Slick McBurney, and end their long-standing losing streak. But, hopes are dashed when his devout wife, Margaret, finds out that most of the town is wagering on the outcome of the game and refuses to let him play; until Caroline Ingalls proposes a creative solution that may save the day and give Walnut Grove the chance to finally defeat their nemesis . "
If you would like to hear more from Mark head over the http://www.stillunsolved.com or subscribe to his other podcast, Unsolved Mysteries Rewind by clicking here
The opening song "Albert" is written and performed by the amazing Norwegian band, Project Brundlefly and is used with permission.
Check them out at:
https://www.facebook.com/ProjectBrundlefly
Become a Patron!