Walnut GroveCast – An Interview with Wendi Lou Lee AKA "Baby Grace"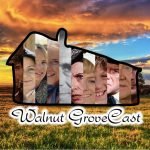 Mark had the honor of speaking with Wendi Lou Lee who is releasing an incredible book titled, A Prairie Devotional: 100 Devotions.
Actress, Author and Motivational speaker, Wendi Lou Lee and her twin, Brenda, landed the part of Baby Grace Ingalls in 1978 – apparently, she and her sister were precisely what Michael Landon and producers were looking for.  Retiring from acting to attend Kindergarten, Wendi is now a motivational speaker and is about to release a book entitled, A Prairie Devotional.
You can follow Wendi and her work at her personal website here:
www.wendiloulee.com
You can Pre-order Wendi's much anticipated book here:
A Prairie Devotional: 100 Devotions
If you would like to hear more from Mark head over the http://www.vhsrewind.com or subscribe to his podcast by clicking here
The opening song "Albert" is written and performed by the amazing Norwegian band,
Project Brundlefly and is used with permission.
Check them out at:
https://www.facebook.com/ProjectBrundlefly