As Long as We're Together Part 1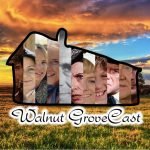 Episode 98
A Harvest of Friends first aired on September 11, 1974 and precisely 4 years later, the 5th Season of Little House on the Prairie would air. Season 5 brings us several topics and scenarios such as the introduction of a pickpocket named Albert, dealing with obesity, racism, a child who is blinded by the measles (and one who is "blinded" by falling out of a tree), anthrax, the death of one of the founders of Walnut Grove, Jews in Walnut Grove, controversial gossip periodicals, cheating, coming of age, a goat, a Wedding that would be as iconic as Luke and Laura's (I may be dating myself with this reference), a pink and purple house, the coming of a new baby and so much more! This is in ONE season of LHOTP !
Sometimes I forget why I love this show so much and then I start flipping through episodes and am quickly reminded. I am so fortunate to have Walnut GroveCast to discuss these shows but especially fortunate to have found people who are willing to support the show as well as take the time to come onto the show to discuss.
Kim Layer is my podcast partner on "Unsolved Mysteries Rewind" and we recorded As Long as We're Together after having recorded several episodes about murder, death and other dark topics. It was a refreshing discussion that I think we both needed, sometimes it's important to remember that LHOTP is always there to cheer you up or make you ugly-cry and 'cleanse the palate'.
As Long as We're Together originally aired on September 11, 1978. I mentioned on the episode that the audio of the clips are TERRIBLE for this episode – I may mess with the EQ but mostly I think we're stuck with what's there.
If you would like to hear more from Mark head over the http://www.vhsrewind.com or subscribe to his podcast by clicking here
The opening song "Albert" is written and performed by the amazing Norwegian band, Project Brundlefly and is used with permission.
Check them out at:
https://www.facebook.com/ProjectBrundlefly