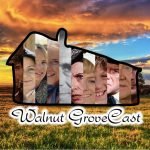 The Executive Producer for this episode is Cheyenne Hampton
Lydia Kikuchi returns to the podcast to discuss this amazing episode!
We discuss so much in this episode – I hope you enjoy it half as much as I did recording it!
Edwards shoots a hole in the roof!
Carrie love Isaiah's cooking!
The Ingalls attend the theatre!
"While on a second honeymoon trip with Charles in Mankato, Caroline can't help worrying about what's happening back home in Walnut Grove where old friend, Mr. Edwards, finds that babysitting three active little girls is not as simple as it seems."
Ma's Holiday originally aired on November 6, 1974
Please check out Alicia's amazing book!
Walnut Grove Hits Home: Prairie Values for the Modern Family