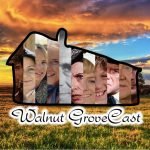 Episode 121
Before I get into this episode description I want to just say thank you to everyone who sent me get well messages, phonecalls, emails and letters! I am truly blessed to have so many people thinking of my family and me as we dealt with having covid-19! The good news is we are all doing great and every day we are feeling more and more 'normal'! I am fortunate that the worst part for me was the loss of my smell and taste which comes and goes but I am convinced all will be back to normal very soon. My ears have a clogged up feeling and my hearing is a little muffled (so editing has been a struggle), I am also dealing with a lingering cough which makes recording a little tough. It's all normal so that's still the good news….the BAD news is that I haven't released an episode in awhile so let's GO!
*As I stated, my hearing is screwy at the moment so please keep that in mind with the audio mix.
Chantelle Dubois Nishiyama returns to discuss this classic episode! Thank you so much Chantelle!
"Mrs. Oleson invites a charismatic preacher, the Rev. James Danforth, to preach in Walnut Grove. He immediately woos parishioners away from Rev. Alden's congregation with his fiery sermons and "faith healing." But nobody is aware he is a charlatan, and it will soon have tragic results."

The Faith Healer first aired on November 19, 1979!
ps – Wagon Talks is still 100% happening – I just need to heal a little more before resuming with recording! I am so happy with the level of interest to come on and discuss Little House! There is another soon to be released piece of information that I am sure you will be interested in if you love LHOTP!
Stay well and there is a lot more to come!
– Mark
If you would like to hear more from Mark head over the http://www.stillunsolved.com or subscribe to his other podcast, Unsolved Mysteries Rewind by clicking here
The opening song "Albert" is written and performed by the amazing Norwegian band, Project Brundlefly and is used with permission.
Check them out at:
https://www.facebook.com/ProjectBrundlefly