Walnut GroveCast – The Legacy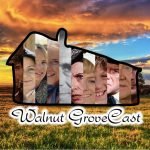 Time Travel on LHOTP! 
Let's jump feet first into an episode that was recorded this past Summer!  Susan and I tackle the episode The Legacy which aired on January 25, 1982!  We're in the eighties for this one people! This is of course the one with the Ford pickup in it and it's always a memorable one!   
" A present-day couple buy an antique, folding-leaf table with a large "I" branded on it and are curious to learn about its origins. The story focuses on Charles' efforts to patent the table and have it mass produced. However, a ruthless businessman is successful in a bid to steal the patent and snare an ill-gotten profit, forcing Charles to realize that his family, and not the tables, are his greatest legacy. "
If you would like to hear more from Mark head over the http://www.vhsrewind.com or subscribe to his podcast by clicking here
The opening song "Albert" is written and performed by the amazing Norwegian band, Project Brundlefly and is used with permission.
Check them out at:
https://www.facebook.com/ProjectBrundlefly
Become a Patron!