Walnut GroveCast – Dark Sage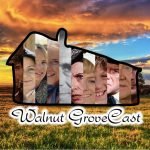 Today returning to the show to review "Dark Sage" is Rii. Rii is from Japan and was kind enough to work with me to find the perfect time to review this deep and racially charged episode!
Dark Sage was originally released on October 26, 1981
"Dr. Baker is enthusiastic about his new assistant, a young university-trained physician named Caleb LeDoux … until he realizes he is black. The Ingalls family are among the few to accept Dr. LeDoux, while others' reactions range from prejudice to outright racism. Even Dr. Baker has a tough time concealing his prejudice. Then, a pregnant white woman is suffering from complications and must rely on LeDoux to save her life, but the woman's racist husband refuses to cooperate and Charles must intervene. The surgery is a success and both woman and her baby son are fine; Dr. Baker is stunned and realizes he must deal with his own prejudice … by going all out to convince Dr. LeDoux to stay when he threatens to leave the community. "
If you would like to hear more from Mark head over the http://www.vhsrewind.com or subscribe to his podcast by clicking here
The opening song "Albert" is written and performed by the amazing Norwegian band, Project Brundlefly and is used with permission.
Check them out at:
https://www.facebook.com/ProjectBrundlefly
Become a Patron!