Walnut GroveCast – An Interview with David Friedman AKA "Jason Carter"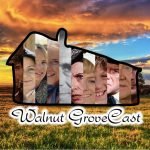 Mark had the honor of speaking with David Friedman!  David has been on many of the most popular tv shows from the 1980s such as Chips, Several Waltons movies, Mama's Family, Amazing Stories, St Elsewhere, Mr Belvedere, The New Leave it to Beaver, The Burning Bed, Highway to Heaven and of course if you're listening to this show you know him best as Jason Carter, please welcome to the show David Friedman. 
Check out the work David has done here:
https://www.imdb.com/name/nm0295191/
If you would like to hear more from Mark head over the http://www.vhsrewind.com or subscribe to his podcast by clicking here
The opening song "Albert" is written and performed by the amazing Norwegian band, Project Brundlefly and is used with permission.
Check them out at:
https://www.facebook.com/ProjectBrundlefly
Become a Patron!