Walnut GroveCast – 43rd Anniversary of The Journey in the Spring (Roundtable)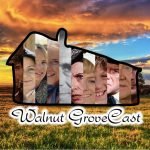 This episode originally aired on November 15, 1976 which was 43 years ago tonight!
This roundtable discussion was crazy – it reminded me of those big Sunday dinners my family would have when I was little. Laughter, inside jokes, noisy and all in all a great time.  Thank you so much to everyone who participated and although 6 people might be too many to talk at once I thought we all did extremely well with it!
Six LHOTP fanatics get together to discuss the sad and bleak episode, The Journey in the Spring for 2 hours!  I hope you enjoy this episode!
If you would like to hear more from Mark head over the http://www.vhsrewind.com or subscribe to his podcast by clicking here
The opening song "Albert" is written and performed by the amazing Norwegian band, Project Brundlefly and is used with permission.
Check them out at:
https://www.facebook.com/ProjectBrundlefly