LHBC – Little House in the Big Woods Discussion Part 1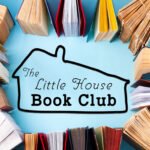 *Apple Podcasts is not allowing new podcast submissions at the moment because of their upgrade of Podcast Connect. The podcast is fully available on Spotify, Amazon, Stitcher and Overcast (links below)
I am joined for the pilot episode of The Little House Book Club by some truly patient and wonderful people!
Anne Quinn, J-Jaye Shackleford and Stephanie Bailey thank you so much for taking the time out of your schedules to read, research and meet with me to discuss Little House in the Big Woods!
We discuss so much in this first episode – Part 2 will be coming next week!
If you rely on Apple Podcasts You can always play the podcast in this browser or click on one of the links below until Apple fixes this bug
Direct Feed: https://www.walnutgrovecast.com/feed/podcast/the-little-house-book-club
https://overcast.fm/p3000921-S33sBA
https://open.spotify.com/show/7kbhQGxKRLuBuIXsiysdKf?si=Q4bcOstBTJCjK2CpzEHU6w
https://www.stitcher.com/s?fid=628850
https://music.amazon.com/podcasts/6ba769f1-9173-4955-b9a8-6b4266320d03