LHBC – Wendy McClure, Author of The Wilder Life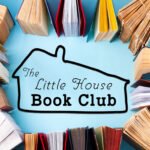 I was so delighted when Wendy agreed to come onto my show for a discussion about her book! The problem is, this was back in 2020 right before everything got shut down so we put it off, then we put it off again! Finally, our schedules seemed to be in sync and on a Sunday afternoon we got together for a discussion! Wendy's book is so fun and I can't imagine a Little House fan who wouldn't just love it for themselves or as a gift! I enjoyed our talk thoroughly and look forward to another very soon!
Wendy McClure is a writer and a children's book editor. She is the author of The Wilder Life: My Adventures in the Lost World of Little House on the Prairie, which won the Midwest Booksellers Choice Award for nonfiction in 2011, received a starred review from Publishers Weekly, and was a Barnes & Noble Discover Pick. For more than a decade she wrote the PopTart pop culture column for BUST Magazine, and her work has appeared in publications such as The New York Times Magazine, Glamour, The Chicago Sun-Times, and on the radio program This American Life.
You can follow Wendy's career at:
http://www.wendymcclure.net/
You can find Wendy's fantastic books here:
https://www.amazon.com/Wendy-McClure/e/B001JS0T4E

We are finally on Apple Podcasts!
https://podcasts.apple.com/us/podcast/the-little-house-book-club/id1565403583