Christmas at Plum Creek Roundtable!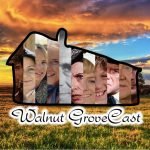 Episode 118
Merry Christmas and Happy Holidays to all of you!
In this episode we revisit the episode Christmas at Plum Creek in a roundtable setting with the help of Kelly, Leah, Anne, Chantelle and Suzanne!
2021 is getting ready to be a very active year for Walnut GroveCast and I hope you continue listening and enjoying these episodes!
Too all of the amazing supporters of Walnut GroveCast, I hope you enjoy the token of thanks that should be appearing in your mailboxes in the coming days or weeks. I have included something for each of you to put on your Christmas tree or maybe just hang off a hook somewhere!
Christmas at Plum Creek first aired on Wednesday, December 25, 1974

"Christmas is coming and everyone is saying that it is a time for secrets and not to ask questions. Laura wants to buy something expensive for her mother and has to come up with a way to pay for it. Mary tries to decide what to make her Pa. Carrie uses her Christmas penny to buy a special present for Baby Jesus. It is a good Christmas!"
If you would like to hear more from Mark head over the http://www.stillunsolved.com or subscribe to his other podcast, Unsolved Mysteries Rewind by clicking here
The opening song "Albert" is written and performed by the amazing Norwegian band, Project Brundlefly and is used with permission.
Check them out at:
https://www.facebook.com/ProjectBrundlefly