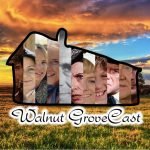 Episode 100
Become a Patron!
I started this podcast on a whim 4ish years ago when Chris Hasler and I got into a discussion about LHOTP on our podcast, VHS Rewind! – I recall making the statement, "I think Little House on the Prairie is one of the best tv shows to ever air" which triggered the idea of a podcast! It amazed me that there were people who shared my fondness of this strange and sometimes nearly forgotten tv show!
100 episodes later and I am so honored to have such a wonderful group of listeners!
100 Episodes are a lot of hours of discussing Harriet, Caroline, Nellie, Laura, Carrie, pickles, cast iron, Blanke's coffee (it's high quality I hear!) so I would like to thank all of the people who have participated in recording the episodes with me but especially the people who listen, share, comment and discuss!
For those of you who support the podcast, I thank you from a different level as you make it possible to subsidize bloated server fees and things like giveaways, stickers, etc!
We ALL thank you!
Walnut GroveCast has opened the door to introducing me to people who I now consider real friends, launching new and exciting podcasts as well as other projects and even meeting many of the cast members!
Thank you so much for listening and for supporting the show, the best is yet to come!
In this episode Amanda joins me to review, Little Women which originally aired on January 24, 1977!
"Mrs. Oleson rewrites Alcott's "Little Women" to ensure Nellie is the star in Walnut Grove's school play based on the classic story; but shy Ginny Clark steals the show when, taking a lesson from her character, Jo, to try to get her bitter mother to come to the event, she surprises everyone by playing her part to perfection, both on and off the stage."
I hope you guys enjoy it!
If you would like to hear more from Mark head over the http://www.stillunsolved.com or subscribe to his other podcast, Unsolved Mysteries Rewind by clicking here
The opening song "Albert" is written and performed by the amazing Norwegian band, Project Brundlefly and is used with permission.
Check them out at:
https://www.facebook.com/ProjectBrundlefly