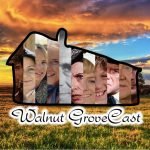 The Executive Producer for this episode is Angela Bowen
I am joined by Alicia Hogan Murphy who recently released the book Walnut Grove Hits Home: Prairie Values for the Modern Family to discuss this amazing and racially charged episode. We discuss so much and I hope you enjoy this episode as much as I did while recording it.
"Dr. Baker is enthusiastic about his new assistant, a young university-trained physician named Caleb LeDoux … until he realizes he is black. The Ingalls family are among the few to accept Dr. LeDoux, while others' reactions range from prejudice to outright racism. Even Dr. Baker has a tough time concealing his prejudice. Then, a pregnant white woman is suffering from complications and must rely on LeDoux to save her life, but the woman's racist husband refuses to cooperate and Charles must intervene. The surgery is a success and both woman and her baby son are fine; Dr. Baker is stunned and realizes he must deal with his own prejudice … by going all out to convince Dr. LeDoux to stay when he threatens to leave the community."
Dark Sage originally aired on October 26, 1981
Please check out Alicia's amazing book!
Walnut Grove Hits Home: Prairie Values for the Modern Family