Bonnetheads 4: Alice Garvey Character Discussion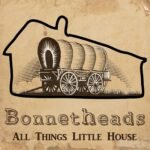 A few months ago Kelly Mielke had a very interesting idea, "wouldn't it be fun to discuss each of our favorite characters from Little House in the Prairie in a somewhat serious and analytical way?"
Since I was just releasing the first few episodes of Wagon Talks and the Bonnetheads podcast was starting to develop in my head, I thought it would make for a wonderful addition to the show!
Well, here we are months later and I am so happy to present the first of very many character discussions! We spun the wheel and it landed on Alice Garvey, played by the wonderful Hersha Paraday!
We hope you enjoy this journey into the Alice Garvey character!
Special Thanks to John Mapes Music for allowing me to use his excellent cover song in the episode!
You can watch his hilarious Little House Tribute here
https://www.youtube.com/watch?v=93Vjps2HriA
Please Subscribe to his Channel!
https://www.youtube.com/channel/UCSg9fwvgW1fZltdlVM-9UsQ