Bonnetheads 18: Highway to Heaven Review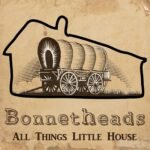 Kelly from the Dr. QuinnCast Podcast joins me to discuss a super entertaining Highway to Heaven episode! For the past couple of months Kelly has shared how many LHOTP actors have made their way onto Highway to Heaven and Lydia shared a document that she created a couple years ago where she tracked this trend! Let's just say, it's a lot!
I am always ready to dive into a discussion and I thought Bonnetheads would be a fun place to discuss the show.
What do you think about covering shows that actors from LHOTP worked on? There is a lot of stuff planned for this idea and you can expect some more Highway to Heaven as well. I hope you enjoy this throwback to the 80's
Change of Life
Highway to Heaven: Season 2, Episode 15
Originally aired on January 29, 1986
"While working for Linda Blackwell, a beautiful movie star with a very low opinion of men, Mark and Linda both wish "to God" that each could have the other's life … with the result that "The Boss" takes them at their word and switches Mark and Linda into each other's bodies."
If you have an interest in talking about Little House and your memories, please email me at mark@walnutgrovecast.com, I would LOVE to hear from you!
Special Thanks to John Mapes Music for allowing me to use his excellent cover song in the episode!
You can watch his hilarious Little House Tribute here
https://www.youtube.com/watch?v=93Vjps2HriA
Please Subscribe to his Channel!
https://www.youtube.com/channel/UCSg9fwvgW1fZltdlVM-9UsQ